Category Archives:
Bible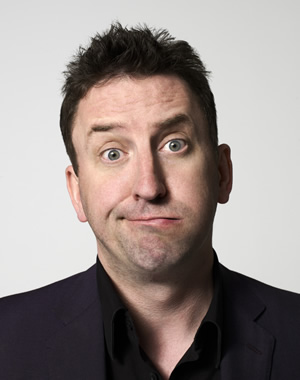 Here's Lee Mack on BBC Radio 4's Desert island Discs with Kirsty Young.
I've always found it hard going to stick with a Bible reading programme. I've tried different kinds of Bible reading notes from Scripture Union and others. I've tried various versions of the Bible in a year. But I've never quite kept up with them. Then comes the guilt and the shame.
I'm also someone who uses the Bible in my ministry as a pastor, preacher and broadcaster. When you're constantly looking for inspiration for sermons, talks and group studies, it's difficult to read the Bible for your own enrichment without constantly thinking of how you can make use of it for teaching and encouraging others. It's not easy to allow God to speak to your heart without making it into a teaching point for that Sunday's message.
This year our little church, Dovedale Baptist Church in Liverpool is taking the Bible seriously. Don't get me wrong, we do take the Bible seriously every year. But this year we've decided together to read the Bible, study the Bible, get to know the Bible, and to act upon it. And we want to do it together. We looked at various options to support our intention and decided upon the E100 Challenge.
E100 is a programme of Bible reading from Scripture Union, The Bible Society and Wycliffe Bible Translators based on a pattern developed in the US. The Challenge is to read a hundred essential (that's what the E stands for) passages from the Bible. These hundred readings, 50 from the Old Testament and 50 from the New, have been chosen to cover the full story of the Bible. The 100 readings are arranged into twenty "weeks" of five readings each, and each week is grouped together to cover a sensible section of the Bible. Over twenty "weeks" you discover the full scope of the Bible's story and message.
The choice of the hundred readings is rather idiosyncratic. But if you were asked to choose fifty daily readings from the Old Testament and fifty from the New Testament, which would you choose? The Old Testament choices place an emphasis on "salvation history" with nearly a third of the readings coming from Genesis and most of the rest from the historical books. Only five readings come from the Psalms and Proverbs and only five from the prophetic books. The New Testament selection has a similar emphasis on narrative, with thirty of the fifty readings coming from the Gospels and Acts, fifteen from the epistles and five from Revelation.
Some will argue with the choice of readings, but it can't be denied that if you read all 100 passages you gain a "wide-shot" understanding of the Bible that isn't gained from spending five weeks in a detailed study of the Letter to the Galatians. The readings can be enhanced with the various resources on the E100 website and in bookshops. There's a cheap and helpful card listing the readings, and a book that introduces each section and provides a reflection on each reading. This is helpful and balanced, though for my taste is too often about personal holiness and church, and hardly ever applies the reading to real-world living.
One hundred readings in twenty weeks are well and good, but how do you make use of them as a church community? The E100 website has some helpful ideas but we decided on our own way of going about it. Over the year we're encouraging each other to read ten passages each month (using August and December as catch-up months). So we're challenging one another to complete just two "weeks" of reading each month. This allows people to take it at a slower pace, which should make it manageable for everyone. We're supporting the personal readings with a sermon series, so the preacher is asked twice each month to speak on the theme from one week of the readings in our main worship service. As a church which doesn't use a lectionary this provides us with a structure, without stifling the spontaneity we're used to.
Group studies are also vital to our approach. We meet in weekly term-time study groups to look through the readings from the E100 and ask each other questions about them. The idea here is not to get all the answers right but to let God speak through the Bible and through each other. We're only a couple of months into the E100 Challenge but we're finding it helpful and inspiring.
We're also using new media resources to support the readings. We've set up a page on our church website which reminds us of the passages we're reading that month. There are also audio recordings of our E100 sermons to download and listen to for those who missed out on church that Sunday. Some of us are tweeting or sending regular Facebook updates to encourage one another. Some of us are using mobile technology. I'm doing all my E100 reading on my Android smart phone using the YouVersion app which has the E100 readings as one of its Bible plans.
For us, E100 is proving to be a hit. Some people who have never previously read the Bible are now doing so with enthusiasm and some jaded old-timers like me are finding a new joy in the Bible, which is good for all of us.
This post was originally written for the Big Bible website